What Do I Need To Make A Leather Knife Sheath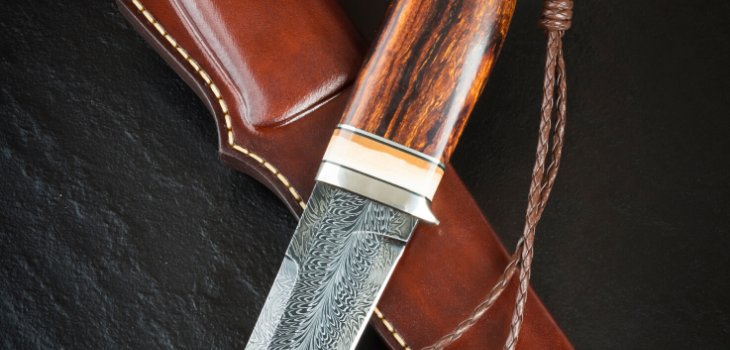 Canva.com -

At Leather Craft Blog, we recommend, review and write about products and tactics based on pinions and research, but we will earn a commission if you shop through the links on this page. The content on this page is biased by that fact.
Well, 2020 started off crazy and you maybe need to know the answer to this question more than ever. A knife is one of the most important survival tools, but don't forget to have a nice leather sheath to it. Here is why.
You want your most important items close to you and a knife is a sharp item that should be quick to draw. Real survivors knows how to craft their own knife sheat, and I will supply you with a list of materials that you need to make this happen.
What do I need to make a leather knife sheath? To make a leather knife sheat you need leather, a pencil, a rotary cutter, fid, Groover tool, thread, strong stitching needles, and other helpful leather craft tools such as a leather dye, rubber mallet, glue, sandpaper, and a sharp knife.
I will not go in depth on how to make it because there are various ways to make your own leather knife sheat. But first you draw and trace the pattern and cut is with your rotary cutter or a X-Acto knife.
Then you need to form your leather before you stich it together. Depending on your survival mode and the tools you have to make your own leathercraft there are many steps to make a better leather knife sheath.
I will not go through all the steps today, but the list should be more or less complete. One of my favorite things to conditioning with is beeswax. Some people ask me the question: Is beeswax good for leather? Well, you can read my answer to that right here: Beeswax
Tools to make a leather knife sheat
Leather
Pencil
X-Acto knife
Fid
Groover tool
Stiching needles
Thread
Leather dye
Rubber mallet
Glue
Sandpaper
Knife
I hope you found this article helpful for your own craft. Thank you for reading this.

This article was made with support from Formula Swiss, which is a company from Switzerland producing organic health and nutritional products of highest quality. They have customers in 40 countries. For more information for our danish and norwegian readers visit CBD Danmark or CBD Norge